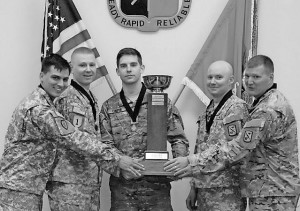 Congrats to the whole team, the Voice of Victory. This year we took first place in the The Joint Cyber Competition (JCC), formerly known as the Cyber Captain's Cup Competition. It is a 36-hour CTF that aims to inspire creativity and the development of cyber professionals testing teams' ability to complete cryptography, forensics, reverse engineering, packet analysis, and trivia challenges.
The challenges were difficult – many I wouldn't have been able to solve in the time limit! Some were extremely creative, incorporating obscure programming languages and social media. We took first over teams from navy, marines, air force, nsa, and other organizations.
Overall it was a great learning experience and I look forward to participating in next year's capture the flag!